Founded in 1973, MAIER's headquarters are based in Gernika, Basque Country.
They are European leaders in the decoration of plastic parts and manufacturers of complex injection mouldings for the automotive industry. The technologies they are working with comprise chrome plating, painting, laser etching and hot stamping.
They form part of the prestigious Mondragon Corporation, one of the biggest cooperative organizations worldwide. Now, MAIER is participating in REVOLUTION and leads one of the case studies of the project.
Janire Goenaga is one young R&D part of MAIER group. She obtained her degree in Desgin and product development Engineering in 2019, and her Master's degree in Industrial organisation in 2021. She started her professional career in Maier in 2019. Do you want to know more about her?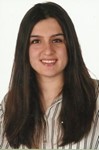 Which was the central aspect of REVOLUTION that promoted you to participate in the project?
"The use of recycled materials on aesthetical added-value components is one of the biggest challenges for the automotive industry; recycled materials are widely used on non-visual applications: Wheelhouse arches liners (fender liners), Heating and air conditioner housings (HVAC systems), Carpets, Starter battery trays, Air cleaner assemblies and underbody panels, Reinforcement/support for bumpers, Powertrain applications insulation materials and Engine covers. Therefore, there is a lack of recycled materials for aesthetical components for two main reasons: (1) Due to the higher inconsistency of the quality of recycled material sources, it is difficult to meet requirements for an exact colour shade and (2) Low amount of impurities degrade the aesthetics of parts, so they do not fulfil the requirements set for the automotive industry.
REVOLUTION is an opportunity for MAIER to collaborate with material producers such as ALTUGLAS, which are experts on the production of aesthetical materials such as PMMA and suppliers for the automotive industry."
In the framework of your enterprise's main activities, which could be the improvement from REVOLUTION?
"The improvement in MAIER's case will be double. On one hand, validating a recycled alternative to the PMMA grade we currently use. On the other hand, reducing the overall part weight. PMMA is currently combined with reinforced styrenic materials through 2K injection moulding to fulfil the thermos-mechanical requirements defined by OEMs. During REVOLUTION, one of the goals is to improve the properties of PMMA so the secondary material is no longer needed, thus, reducing the overall part weight.
This will enable MAIER to reduce the environmental impact of its products during manufacturing phase and during the use phase, making also the recycling phase easier."
In your opinion, what degree of acceptance could REVOLUTION results in the Automotive field?
"The automotive industry is actively looking for solutions that reduce its environmental impact, and one of the most important strategies for that is the use of recycled raw materials. Therefore, REVOLUTION will provide a much sought-after solution for specific products."
"REVOLUTION is an opportunity for MAIER to collaborate with material producers such as ALTUGLAS, which are experts on the production of aesthetical materials such as PMMA and suppliers for the automotive industry."

Janire Goenaga, R&D scientist