Trinseo is a global materials solutions provider and manufacturer of plastics and latex binders. We focus on developing and delivering innovative, sustainable, and value-creating products that are intrinsic to our daily lives. They partner with like-minded stakeholders and support their customers' sustainability goals in a wide range of end markets, including automotive, consumer electronics, appliances, medical devices, packaging, footwear, carpet, paper and board, and building and construction. They have 26 manufacturing sites, one recycling facility worldwide, and approximately 3,400 employees.
Pascal Lakeman is the global R&D Director for Trinseo's plastics business division responsible for driving innovation in plastics to meet customer demand for new solutions aligned with sustainability strategies. He directs customer R&D interface on new polymers, materials, and application technologies in this capacity. He is responsible for shaping Trinseo long range value creation plan and innovation strategy according to industry segment megatrends, emerging customer needs, in-house technology developments and competitive activity. He started his career in 1998 with The Dow Chemical Company fresh from Eindhoven University of Technology, and moved from various roles in Plastics into the Trinseo business unit.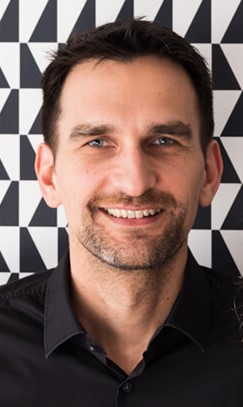 Good morning, Pascal. Nice to meet you. Starting with the questions: What points of the REVOLUTION approach were those that made you engaged in the project?
"Hello, Andrea. Thank you for this interview. From my point of view, the main goals set forth by REVOLUTION and its member partners are: First, the weight reduction of the components contributing to increased range and paving the way for enhanced electric vehicles, and second, incorporating sustainability and circularity principles in-car components increasing recyclability and reuse up to 80 per cent.
Trinseo has been a global supplier of innovative, rigid and soft-touch material solutions to the auto industry for decades."
Which will be the main advantages of this kind of polymer?
"Material solutions that are sustainable on their own (e.g., bio-based or recycled content containing resins) or solutions that enable design and manufacturing to achieve sustainability objectives (e.g., metal replacements of light-weighting) offer the advantages of helping to achieve circularity, reducing the reliance on fossil fuels, and supporting carbon neutrality."
As a customer, could you predict the level of general acceptance for the new improvements? "The automotive industry is keen on sustainable solutions and enhanced electric vehicle technologies, and it is a shared belief, with REVOLUTION partners, that the entire value chain must work together to drive sustainability efforts.  This is the intent of the consortium, and interest in the strategies, solutions, and recommendations set forth will probably be quite high."
"…Our involvement with vehicle efficiency initiatives, as well as our expertise in producing materials from recycled and bio-based content, puts us in an ideal position to collaborate and contribute to the project."

Pascal Lakeman