The REVOLUTION team has the honour to count among its force dedicated External Experts Advisory Board members. We think that they are key in the project implementation and they are our guide in developing the technical activities. Chapter by chapter we will be presenting to you. Are you going to miss it?
Our first interviewee comes from Maastricht University. Maastricht University (UM) is one of the youngest and most international universities in the Netherlands. The university stands out for its innovative education model, international character and multidisciplinary approach to research and education. More than 50% of its 18,000 students and 40% of the scientific staff come from abroad, and 50% of the scientific personnel is female. Research at UM is carried out in multidisciplinary teams and in close cooperation with institutes, businesses, industries and organizations all over the world. UM is committed to having an impact by deploying high-level research and innovation to resolve societal challenges. UM is a founding member of the Young European Research Universities Network (YERUN) and is the coordinator of the European University Alliance 'Young Universities for the Future of Europe' (YUFE).
Kim Ragaert is a full professor at the Faculty of Science and Engineering (FSE), holding the key domain chair of Circular Plastics within the department Circular Chemical Engineering (CCE).
She obtained her PhD in polymer processing at Ghent University in 2011 and focused her research on the mechanical recycling of plastics soon after. Prior to accepting her current position at Maastricht University, she was an associate professor at Ghent University and chair of the Plastics to Resource pipeline within CAPTURE.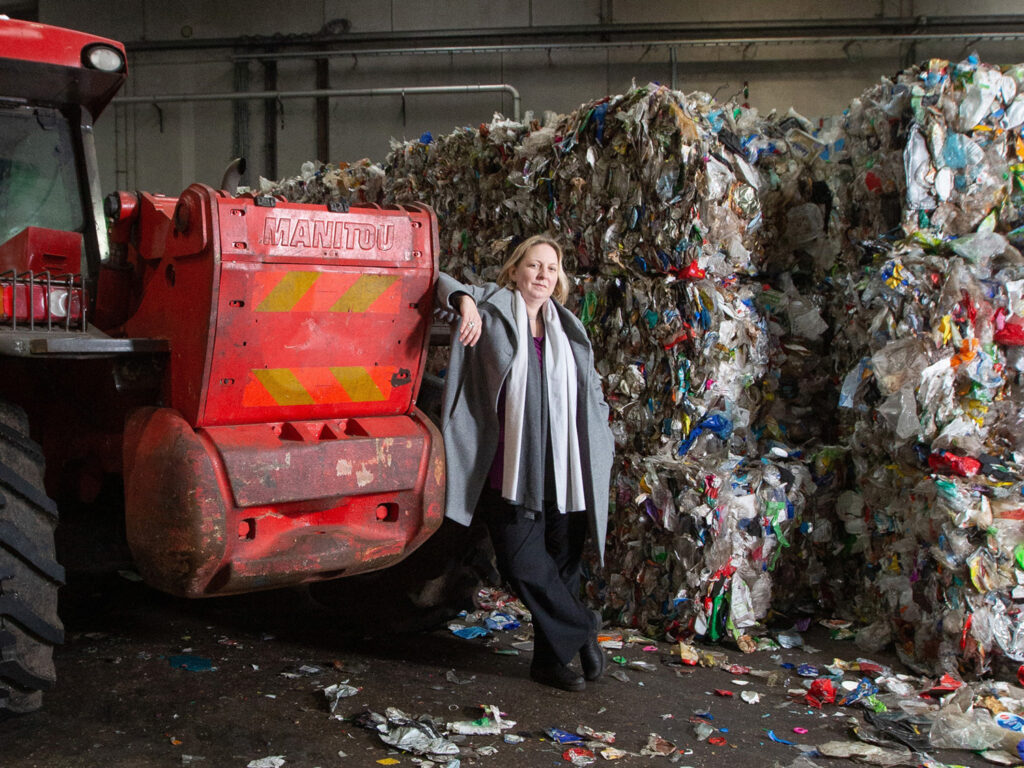 Her lab and research group are on the Chemelot industrial site in Geleen. The Circular Plastics team focuses on structure-property-processing relationships in thermoplastics and translates these fundamentals to methods for increased quality and quantity in mechanical recycling of plastics. Committed also to educating the next generation of circular professions, she is the Chair of the educational programme committee of the BSc Circular Engineering at FSE.
Kim is a strong believer in value-chain cooperation and interdisciplinary research. She consults for organizations like Plastics Recyclers Europe, CEFLEX and ECOS, and works closely with industrial partners. Kim was the 2020 European Plastics Recycling Ambassador.
With this interesting career, she kindly answers some of our questions. Do you want to know more about it?
Hello prof. Ragaert, thank you for receiving our questions. We are glad to discuss with you. Our first question is: Attending to the End-of-life, which are the main points of REVOLUTION that you think will be differentiating from other projects?
"REVOLUTION is very application oriented and case-based. This allows to evaluate and improve the value chain for a specific product at a time, which may lead to a faster success than attempting to handle the entire automotive sector all at once. These specific learnings can then be used as a basis for other products."
Do you think that REVOLUTION is in line with the future market/industry?
"Very much, as it focuses on developments for electric vehicles. Also, it combines different strategies, looking at weight reduction (design for less energy usage), design for recyclability and incorporation of recycled content (design from recycling). Furthermore, systems of machine learning and AI will be integrated with production."
According to the sustainability and recycling policies, which will be the forward prospective?
"As mentioned above and discussed in the recent ReShaping Plastics report, achieving sustainability requires an and-and-and solution, rather than just a single approach. We need material reductions AND more sustainable production AND re-use AND the different recycling pathways."